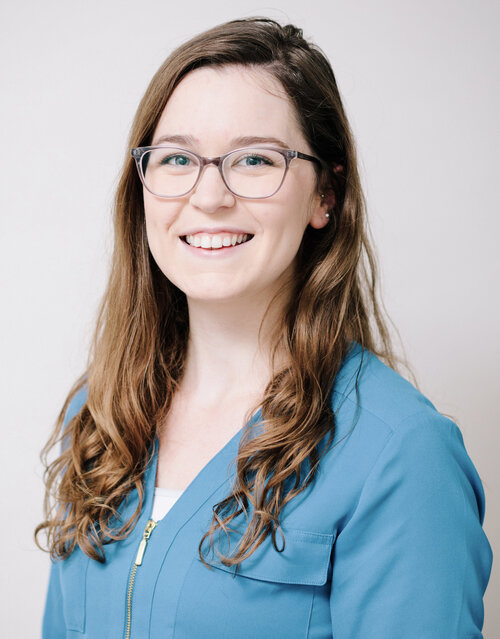 This month's featured researcher is Sara A.M. Holec. Dr. Holec is a postdoctoral associate in Dr. Amanda Woerman's lab in the Department of Biology and Institute of Applied Life Sciences. Sara earned her PhD in 2019 at Creighton University and joined Dr. Woerman's lab in 2020. She is interested in studying α-synuclein prion strains and understanding how these differences contribute to human disease. Dr. Holec is the first author on a paper that appeared in Acta Neuropathologica this month that was a collaboration with Nobel Laureate Stanley Prusiner, titled "Multiple system atrophy prions transmit neurological disease to mice expressing wild-type human α-synuclein." They show that six different MSA patient samples transmit neurological disease and induce α-synuclein prion formation in mice expressing wild-type human α-synuclein. This paper helps validate the use of mice for the study of human prion diseases.
1: Holec SAM, Lee J, Oehler A, Ooi FK, Mordes DA, Olson SH, Prusiner SB, Woerman AL. Multiple system atrophy prions transmit neurological disease to mice expressing wild-type human α-synuclein. Acta Neuropathol. 2022 Oct;144(4):677-690. doi: 10.1007/s00401-022-02476-7. Epub 2022 Aug 26. PMID: 36018376.
Here's what else is new for ' "University of Massachusetts" AND Amherst AND neuroscience' in PubMed. These publications appeared online in September. They are just a fraction of the neuroscience research that occurs on campus. You can click on the PubMed ID to find the publication.
2: Giuriato G, Paneroni M, Venturelli M, Layec G. Strategies targeting the NO pathway to counteract extra-pulmonary manifestations of COPD: A systematic review and meta-analysis. Nitric Oxide. 2022 Nov 1;128:59-71. doi: 10.1016/j.niox.2022.08.004. Epub 2022 Aug 14. PMID: 35977691.
3: Park AT, Richardson H, Tooley UA, McDermott CL, Boroshok AL, Ke A, Leonard JA, Tisdall MD, Deater-Deckard K, Edgar JC, Mackey AP. Early stressful experiences are associated with reduced neural responses to naturalistic emotional and social content in children. Dev Cogn Neurosci. 2022 Sep 16;57:101152. doi: 10.1016/j.dcn.2022.101152. Epub ahead of print. PMID: 36137356; PMCID: PMC9493069.
4: Ward CB, Mack JE. The effect of an aphasia ID card on the processing of language produced by a speaker with nonfluent aphasia. J Commun Disord. 2022 Sep 19;100:106268. doi: 10.1016/j.jcomdis.2022.106268. Epub ahead of print. PMID: 36137321.
5: Kapur G, Stenson AF, Chiodo LM, Delaney-Black V, Hannigan JH, Janisse J, Ratner HH. Childhood Violence Exposure Predicts High Blood Pressure in Black American Young Adults. J Pediatr. 2022 Sep;248:21-29.e1. doi: 10.1016/j.jpeds.2022.05.039. Epub 2022 Jun 3. PMID: 35660017.
6: Grau-Sánchez J, Jamey K, Paraskevopoulos E, Dalla Bella S, Gold C, Schlaug G, Belleville S, Rodríguez-Fornells A, Hackney ME, Särkämö T. Putting music to trial: Consensus on key methodological challenges investigating music-based rehabilitation. Ann N Y Acad Sci. 2022 Sep 30. doi: 10.1111/nyas.14892. Epub ahead of print. PMID: 36177875.
7: Pereira M, Smiley KO, Lonstein JS. Parental Behavior in Rodents. Adv Neurobiol. 2022;27:1-53. doi: 10.1007/978-3-030-97762-7_1. PMID: 36169811.
8: Li Z, Klein JA, Rampam S, Kurzion R, Campbell NB, Patel Y, Haydar TF, Zeldich E. Asynchronous excitatory neuron development in an isogenic cortical spheroid model of Down syndrome. Front Neurosci. 2022 Sep 7;16:932384. doi: 10.3389/fnins.2022.932384. PMID: 36161168; PMCID: PMC9504873.