Ever wanted to have an Android phone but still be able to play Xbox Live games on mobile? Soon you'll be able to!
An upcoming handheld developed by a Chinese company called Elephone will be able to do just that! The new phone rumored to be arriving in June will reportedly be able to dual-boot Android 5.0 and Windows 10 giving you the best of both worlds.
Although Windows phones are not nearly as common as Android devices and iPhones, they are still packed with plenty of useful features.
Full Microsoft Office Suite. Word, Excel and Powerpoint are included on all Windows 10 phones. The Suite will work the same on your phone as it does on your desktop with minimal compromises. Outlook and Calendar are also being revamped for 10.
Xbox Live gaming on your phone. Currently with the Xbox Live app you can tweak your avatar, check achievements and Gamerscore and message your friends. Using the SmartGlass app from the Windows Phone store you can navigate your Xbox dashboard, start and pause movies, and view information about your games and videos. In Windows 10 Microsoft is planning to be able to allow users to play Xbox Live games on their phones. Although the list is short Microsoft is working to integrate mobile and Xbox multiplayer capabilities.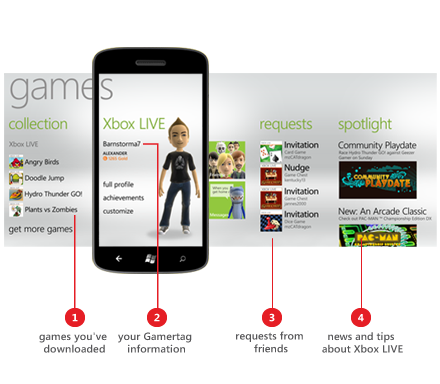 More Space! When you sign up for a Microsoft Account you get 7 GB of free space on their OneDrive cloud-based storage. You can automatically sync your photos and videos to your account.  You'll be able to able to access all your content through your Xbox on the big screen.
Messaging. With inline messaging you'll be able to send text messages and Skype messages through one app. You can also resize and drag the keyboard around for more one-handed usability.
Cortana. Windows' version of Siri can assist at making phone calls, texting, making calendar events and setting reminders, control alarms and music, set up directions and help you find places to go. You can ask Cortana about certain facts, ask her to check sports scores, suggest weight loss workouts, and find out how the Dow Jones did today.
With the dual-OS option you'll be able to access all those great features and at the same time run Android Lollipop which has a whole slew of unique features itself:
Access to the Google Play Store which contains the most mobile apps ( over 1.3 million) compared to the iOS app store, Amazon Appstore and Windows Phone store. You can also download movies, books, and music.
Full integration of Google Services. Out of the box Android phones come equipped with apps like Gmail, Maps, Play Music, Hangouts, YouTube and Google Drive. It's handy having everything in one Google folder on the home screen.
Google Now. Although originally a Google Search application, Now can do everything Cortana and Siri can do. Google has announced that they will also begin supporting third party applications such as Pandora, Duolingo and Lyft, among others.
Open Source. It's easier to design and program applications for Androids as they are written using the Java coding language. There is a lot of documentation out there and free programs where one can learn to develop mobile applications.
Elephone is planning on releasing two phones, one just with Android and the second with the dual boot capabilities. Both versions will have large 5.5-inch 2K displays (1440 x 2560), 4 GB of RAM and 32 GB of built in storage. There will also be a a battery reported to exceed 3800 mAh  For reference, the Samsung Galaxy S5 has a 2800 mAh battery and advertised for 21 hours of talk time.
There are slight differences in the 2 handhelds as the Android version of the phone will contain a 64-bit octa-core processor while the dual-OS phone will only contain a quad-core chip. Also, the Android-only handset will come with a 21MP camera while the dual version will only be 20.7MP. Both are expected to also come with fingerprint scanners.
If you, like myself, have been used to the Android interface but want to see what's different or special about the mobile Windows OS you'll be able to get both without sacrificing anything. Elephone is already popular outside of the United States for making affordable Androids so it'll be interesting to see if they make any impact in the US market.