Long ago in the year 1981, IBM released their original PC keyboard. It came with a set of 83 keys which have since become industry standard. However, the keyboard has evolved much over the 36 years since its creation. Most have changed key placements and adding, combining or removing keys due to evolving technological needs
But there is a key that has managed to hang on through history, despite most people not knowing what it even does. Today, we explpore the Scroll Lock  key.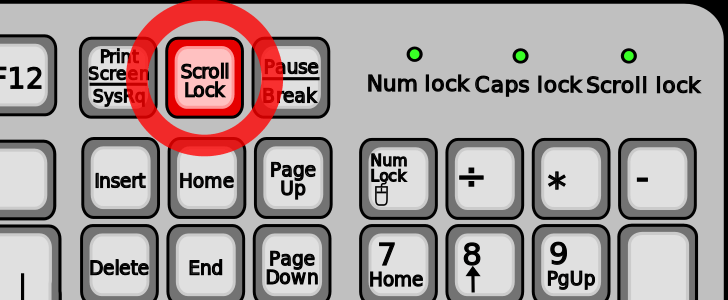 The Original Purpose
Back when the Scroll Lock key was first invented, mice and graphical operating systems were still not mainstream like they are today. Today when when typing documents, we can use our mouse to point and click to move the typing cursor. Back then, the arrow keys were used to move your typing cursor, or to scroll the page. Toggling the Scroll Lock key would disable scrolling with the arrow keys, and allow you to move your typing cursor through the page.
But mice are widespread now, so why is the key still there?
Uses
There are two very popular uses for the Scroll Lock key today:
Microsoft Excel
In Excel, the arrow keys navigate cells by default. However, when the Scroll Lock key is toggled, the arrow keys will now scroll the entire spreadsheet either vertically or horizontally. This allows for more advanced users to have both hands on the keyboard at all times, decreasing the time it takes to use the spreadsheet.
"Free" Key
Another popular use for the Scroll Lock key is as a "Free" key. What this means is that people will remap the key to perform other functions and macros. For example, if I wanted to create a New Incognito Window in Google Chrome, I could hit CTRL+SHFT+N or I could remap the whole shortcut to the Scroll Lock and have it be done in one press.
The Scroll Lock key is a vestige of an older time that has remained a standard since the dawn of the keyboard, and managed to carve out relevance, staying useful long after its original purpose expired. In a world of constantly evolving technology, where many feel the need to update their skill-sets to fit new fads and trends, we can all learn a lot from the Scroll Lock key, finding new and exciting ways to apply our talents.