Created and performed by Erth-Visual & Physical Inc.
Sunday, April 13, 4 p.m., Fine Arts Center Concert Hall
$20; Five College/GCC/STCC Students and Youth 17 & under: $10; Family Packs (Two adults, Two Youth: $50
Be transported to the Australian outback where a rugged ranger and his trusty dino keepers introduce you to a menagerie of Mesozoic monsters from around the world. Watch and interact as the astoundingly life-like (and mostly friendly) creations―manually operated by supremely skilled puppeteers―meander, munch, and make the Concert Hall their own prehistoric playground. Enjoy a "dino" meet & greet in the lobby after the show.
Appropriate for ages 6 and up.
Family Fest: Ticket holders are invited to a free pre-show party in the lobby from 3-4 p.m.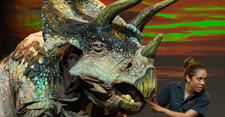 Connect