Wednesday, March 5, 7:30 p.m., Fine Arts Center Concert Hall
$38, $35, $15; Five College/GCC/STCC Students and Youth 17 & under: $10
"Invigorating the stage with that elusive thing called joy" (New York Times), Spirit of Uganda presents riveting programs of music and dance for audiences of all ages. To the melodic tones of standing drums, with dramatic choreography, bright, layered rhythms, and gorgeous call-and-response vocals, a vibrant cast of 22 performers, ages 10–20, bring to life the sounds and movements of East Africa.
Pre-Concert Fireside Chat by Alexis Hefley, Founder/President, Empower African Children at 6:30 p.m. at the University Club.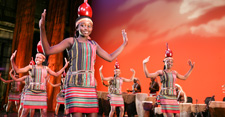 CONNECT
Artist's website
Facebook: SpiritOfUganda
Twitter: @spiritofEAC