Saturday, March 1, 8 p.m., Fine Arts Center Concert Hall, Chamber Seating
$30, 25, 15; Five College/GCC/STCC Students and Youth 17 & under: $10
His concerts have been called magical. As a sarod virtuoso he is a superstar in India, revered for his expressive, vocalized playing. In his hands, the sarod's 25 strings produce a rich palette of overtones mimicking the complex tone colors and expressive range of the human voice. His two sons on tablas will add to spellbinding the audience with their musical prowess.
Website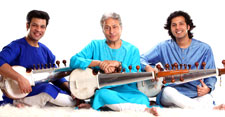 CONNECT
Artist's website
Facebook: https://www.facebook.com/UstadAmjadAliKhan?sk=wall
Twitter: @AAKSar