Thursday, February 13, 7:30 p.m., Bowker Auditorium
$25, $15; Five College/GCC/STCC Students and Youth 17 & under: $10
Part of the 16th annual Billy Taylor Jazz Residency
Not yet 22, Kelly has established herself as a legitimate presence on the contemporary jazz scene. Kelly's saxophone skills recall the fitful style of Wayne Shorter while her vocal melodies put in her league with more pop-oriented artists such as Norah Jones. The Berklee-educated musician has already gigged with the likes of Wynton Marsalis, Harry Connick Jr., and mentor Lee Konitz. Catch this rising star while you can.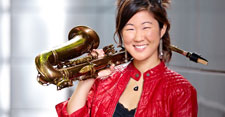 CONNECT
Artist's website
Facebook: https://www.facebook.com/GraceKellyjazz
Twitter: @gracekellyjazz
Myspace: http://www.myspace.com/gracekellymusic1
Official Blog: http://www.gracekellymusic.com/default.aspx?matrix=blog&tp=1