Thursday, October 3, 7:30p.m., Fine Arts Center Concert Hall
$35, $30 and $15; Five College/GCC/STCC Students and Youth 17 & under: $10
On-site preconcert talk at 6:45 p.m.
Visual delight and kinetic spectacle are key elements of the Time Lapse Dance aesthetic. The company's work features contemporary interpretations of modern dance pioneer Loie Fuller with hypnotic fabric-and-light displays combined with circus arts making for a breathtaking and sensuous experience for the audience.
For ticket holders a pre-performance talk will be presented at 6:45p.m.by Billbob Brown, professor of Dance at the University of  Massachusetts.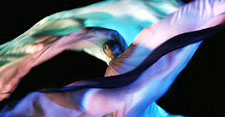 Connect
Boston based Luminarium Dance, which has its roots in the Five Colleges Area Dance program, opens this evening's concert. The company fuses innovative lighting with diverse movement styles. An ideal complement to the visual work of Time Lapse Dance.