PANDIT VISHWA MOHAN BHATT & SUBHEN CHATTERJI
Friday, April 12, 8PM, Chamber Concert Hall
Grammy Award winner Vishwa Mohan Bhatt is hailed as one of the greatest and most expressive slide players in the world. As the principal disciple of Ravi Shankar, Vishwa belongs to the elite set of musicians who trace their lineage to the Mughals. Credited for the invention of Mohan Veena, Vishwa plays with blinding speed and faultless legato and is undoubtedly one of the most versatile and greatest slide players in the world. Subhen Chatterjee performing the tabla, studied under the illustrious tabla maestro Swapan Chowdhury.  Today, Subhen is one of the few tabla players that have participated regularly in the WOMAD festival founded by Peter Gabriel and has collaborated with flautist Paul Horn and David Crosby.
$30, $25, $15; FC, GCC, STCC and 17 & under $10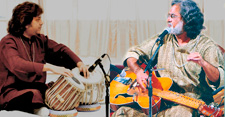 For more information please visit our website at https://fac.umass.edu/online/default.asp?doWork::WScontent::loadArticle=Load&BOparam::WScontent::loadArticle::article_id=4E3064FC-B9B9-4289-B32E-28DC01CEF082