With the Hogshead Horns and Creme Tangerine Strings
Saturday, April 25, 8 p.m., Fine Arts Center Concert Hall 
Performing "Abbey Road" and more!
$60, $55, $20; Five College, GCC and 17 & under $20, $15, $10
$75 non-disounted ticket includes premium seating and Meet & Greet Reception 
The Fab Faux have been spoken of as "the greatest Beatles cover band — without the wigs," by Rolling Stone senior editor, David Fricke, who wrote, "the Faux invigorate the artistry of even the Beatles' most intricate studio masterpieces with top chops and Beatlemaniac glee. Approaching the songs with the intent of playing them live as accurately in musical reading and in spirit as possible, they will perform Abbey Road in its entirety, The Faux's breathtaking performances tend to dispel all concert-goers' previous notions of a Beatles tribute act. All five principals contribute vocals, making the Faux's soaring harmonies as resonant as their multi-instrumental chops that are further enhanced by the four-piece Hogshead Horns (with Blues Brothers, Blood, Sweat & Tears and SNL band alums) and the Creme Tangerine Strings.
Join us as we celebrate the close of this season and offer a preview of the next season @ the FAC! Enjoy a pre-show dessert party on the plaza with free desserts, live entertainment and a cash bar. Tent opens at 6:30 p.m.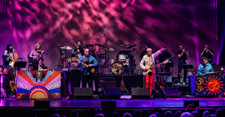 CONNECT