Friday, October 3, 8 p.m., Fine Arts Center Concert Hall, Chamber Seating
$30, $25, $15; Five College, GCC and 17 & under $10
Coming this fall, Zakir Hussain, tabla, Kumaresh Rajagopalan, violin, and Jayanthi Kumaresh, veena, will tour North America offering concerts of Indian classical music. Each of these artists, renowned for their own accomplishments, bring a unique contribution and influence to the collaboration. The musical result will be a brilliant, virtuosic performance combining traditional Indian classical music with flavors of Carnatic music hailing specifically from southern India.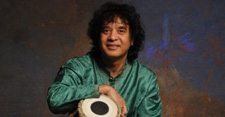 CONNECT
Artists' Websites:
Zakir Hussain
Kumaresh Rajagopalan
Jayanthi Kumaresh
Facebooks:
Zakir Hussain
Kumaresh Rajagopalan
Jayanthi Kumaresh
Twitters:
Zakir Hussain
Kumaresh Rajagopalan